Acondo4U
Features
Rates
Contact
San Diego
Coronado
Imperial Beach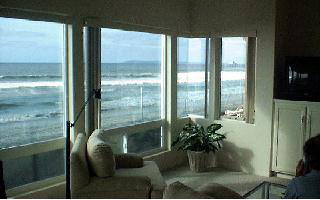 Our condo is on Seacoast Drive, the southmost street in California along the beach. The building contains eight units (with parking below them). Our unit is the only one with immediate beach access. As you can see from the photo, you would not want the ocean to be any closer!
The sunsets viewed from the living room are spectacular, and they change from one evening to the next like a kaleidoscope.
Across Seacoast to the east are wetlands that contain a bird sanctuary and hiking trails. North, up Seacoast Drive, is a small downtown extension of the town of Imperial Beach. It contains a city park on the beach and several restaurants, all within a short walk of the condo. Out the window of the back bedroom you can see Tijuana on a ridge overlooking the wetlands that separate the US from Mexico. Looking southwest from the living room you can see the Coronado Islands off the Mexican coast and across an expanse of ocean. The waves break right in front of you. To the northwest is Point Loma, and looking directly up the beach (at night) you can make out the lights of downtown San Diego.

Location:
We are located on the ocean in Imperial Beach (southwest of San Diego). Just a 10 minute drive to Coronado Island activities like golf and sailing, 20 minutes to San Diego Zoo and Balboa Park museums, 20 minutes to Sea World, 15 minutes to historic Gas Lamp entertainment, 15 minutes to Mexico, 20 minutes to San Diego Airport.
Close to activities such as hiking on the beach or wildlife preserve, biking, tennis ... or just watch dolphins and surfers from your chair.
Living, dining, kitchen, and patio face the Pacific Ocean. Bask on the patio and enjoy the spectacular sunsets.
3 Bedrooms, 2-1/2 Baths, Approx. 2000 sq. ft. Full-size washer and dryer. Air conditioning.