The Campbell's Condo by the Sea
Welcome to our "Seacoast" Webpage.
Seacoast Drive is the southmost street in California that runs next to the beach. Our condo is in a building that contains eight condos (three on the first and second floors, over the parking garage, and two penthouse condos on the third floor). Because our unit is on the first floor, you can step right off of the deck and onto the beach. The sunsets viewed from the living room are spectacular, and amazingly, each evening's is different.
Across Seacoast to the east are wetlands that contain a bird sanctuary and hiking trails. North, up Seacoast Drive, is a small downtown extension of Imperial Beach. It contains a city park on the beach and several restaurants, all within a short walk of the condo. In fact, from this web page, you can actually surf your way there and back (if you can find the proper trail of links)!
Out the window of the back bedroom you can see Tijuana on a ridge overlooking the wetlands that separate the US from Mexico. Looking southwest from the living room you can see the Coronado Islands off the Mexican coast and across an expanse of ocean. The waves break right in front of you. To the northwest is Point Loma, and looking directly up the beach (at night) you can make out the lights of downtown San Diego.
We aren't permitted to rent our condo for less than a month at a time.
There are two compelling reasons to plan on a 3-8 week visit here. You might want to come because you think there is a possibility that you may wish to move here, or buy real estate here yourself. That's what prompted our first visit to the area. The second reason to visit is simply because this is one of the nicest areas to visit anywhere, and this is one of the nicest accommodations that you could find as your base of operations. You get a luxury suite of over 2000 square feet. It has a gourmet kitchen, with a breakfast area, a formal dining area, a living room with fireplace, a large TV with a DVD player (that can also be used to play audio CDs), and a small alcove with a bar table and stools just to watch the sunsets.
The master bedroom has a California King sized bed, its own TV (with a VCR), and a master bath with a large jacuzi-type tub and a separate shower. There is a second bedroom with its own bathroom, and a den with a nearby powder room. Along the hall are closets and alcoves that contain linens, cleaning supplies, and a large washer and dryer set. There is also deck and beach furniture, and beach towels.
(Below is a view from the living room, toward the kitchen, and away from the ocean.)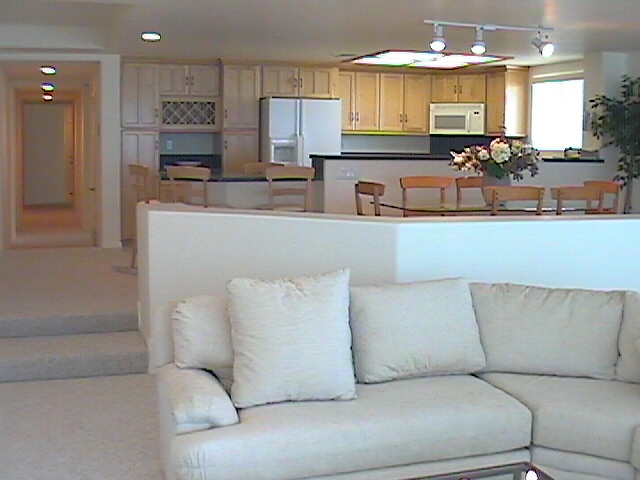 All rentals remove our condo from the market for a minimum of 28 days, so our rates are for one month or more. If you wish to book the condo for less than a month, the overnights you "give back" will be rebated at the rate of $125 per night.

Normal utility charges are included in all stays. The final cleaning fee is deducted from your deposit. Our monthly rate is:

$4950 - $125 for every overnight less than 28 (30 days or more is $165 / night).

Security Deposit = $500 (for a fixed length stay paid in advance).

Example: You want to book a stay involving 20 overnights. The rate is $4950 - $1000 (for the eight nights less than 28 that you don't use), or $3950 (which works out to less than $200 / night).

Booking procedure: When a check for the $500 deposit has been deposited to our account, a firm reservation will exist, and we will send you a signed copy of the lease as a receipt. You will need to sign the lease with our agent when you pick up the keys (or meet our agent at the condo), at which time you will also need to pay the first month's rent.

Contact Us. The condo's phone and address will be written into the lease.