Acondo4U
Features
Rates
Contact
Moab
Calendar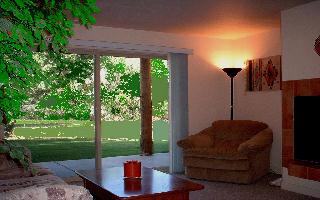 Our townhouse is in Moab, Utah, within walking distance of the downtown shops and restaurants. The Slickrock bike trail is just up the hill, the golf course within three miles, and there is easy access to all Moab activities. The condo is on a quiet side street away from the noisy traffic.
Moab is the center of "supply" for the Canyonlands and Arches National Parks, the Colorado and Green Rivers, and some of the most beautiful desert country in the world.
Our unit is next to Mill Creek with beautiful views from all windows, and the swimming pool is just across the parking lot.

Location:
We are located five blocks southeast of the center of Moab. Just a 30-minute drive from I-70.
Close to activities such as hiking, biking, tennis, golf, and swimming.
2 Bedrooms, 2-1/2 Baths, Over 1,000 sq. ft. Full-size washer and dryer. Air conditioning.